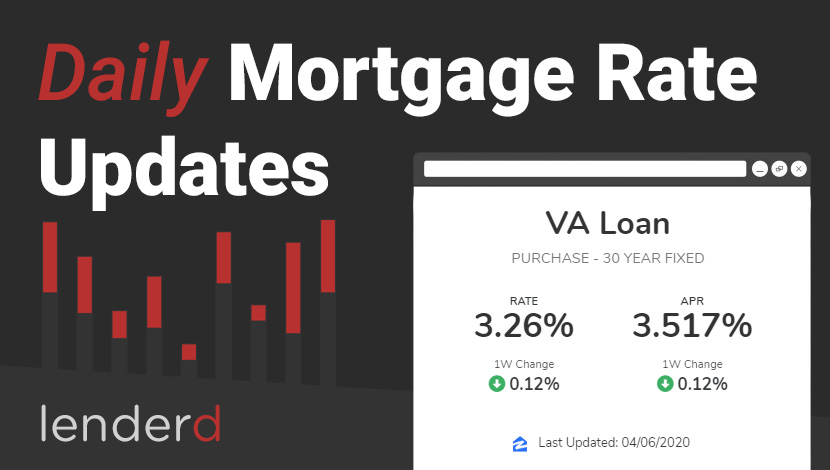 Automated Daily Mortgage Rates based on Your Location
We're excited to announce the release of our automated mortgage purchase & refinance rate data for our loan officer and enterprise websites. This build has been in the works for awhile now and well worth the wait!
What and how much mortgage rate data is being used?
As of today we are providing mortgage purchase & refinance rate & APR data for FHA, VA and Conventional loans. This data is updated daily and specific to the state in which you are located.
In addition we also provide the percentage in which that data has changed over the past week for all mentioned programs and rate types. This data is aggregated and provided via Zillow and is meant to act as a useful tool for your users to gauge the current market and see how things are changing on a daily basis with the objective to keep them coming back to your website as a resource.
But what if…
That said, we also understand the potential issue with rates being displayed on any website and having to adhere to them, either high or low which is why we have a disclaimer mentioned with all rates as to how they were calculated and that all customers should contact you (the loan officer) for specific rates regarding their situation.
Your customers are used to this behavior as they're always looking at rates and we just hope with the release of this tool that they'll at least be on your website rather than a big bank so for our existing users, navigate to your homepage if you haven't already and check out these cool new features and for the rest of you that want to check these out, check out our Loan Officer Website Demos and scroll just under the fold 🙂
We're still running our April promo to save $100 off setup so please contact us for details and we'll get your website up and running in 1 day!